Charnwood Campus Life Sciences Cluster Support Proposition (CSP)
The Charnwood Campus Life Sciences Cluster is a multidimensional support proposition that offers an exceptional environment for life science businesses to thrive and grow. Hugely successful attractor of businesses that have the desire to grow, to learn from the best and to spread good practices, share their experiences. From inspirational speeches during conferences and events, challenging and motivating discussions at workshops, through tangible expert or finance support, through peer learning to opportunities for personal development to become a successful business leaders of tomorrow Charnwood Campus Life Sciences Cluster offers access to specific networks and the life science ecosystem, clinical partners and researchers.
The proposition is designed to nurture and drive life sciences ecosystem in the region. It is proudly representing the companies clustered around Charnwood Campus on regional and national level. Strongly rooted in 4 life sciences business development areas (Skills, Leadership, Cluster Support and NHS and Academia collaboration) that together form a unique platform for Midlands' life sciences sector to be heard on the micro and macro level.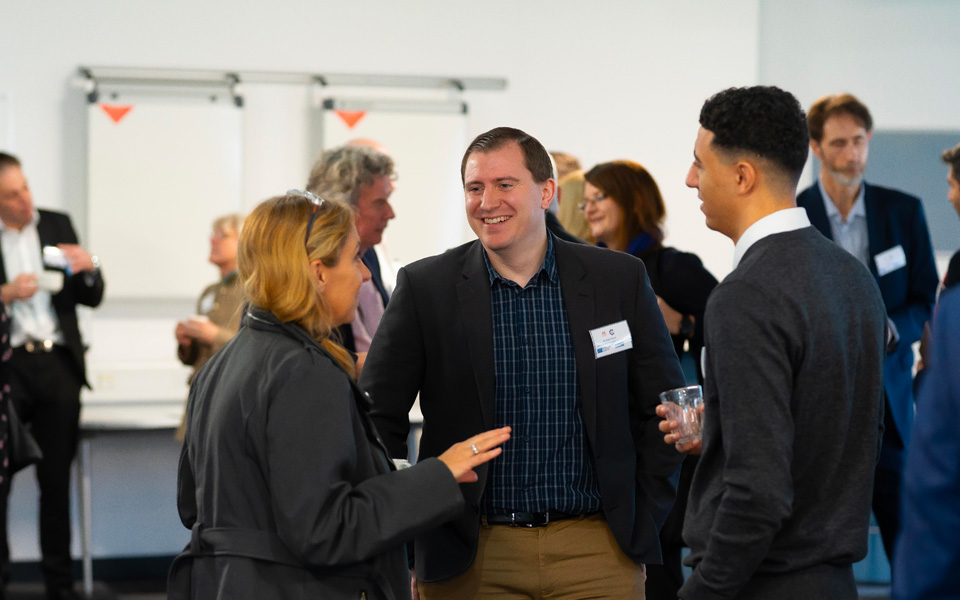 Driving growth and innovation through business support, mentoring, collaborations and sharing best industry practices
Life Sciences Talent and Skills Institute (LS TSI)
The Charnwood Campus Life Sciences Talent and Skills Institute is a collaborative endeavour between industry and educational partners to address the short- and long-term skills requirements. From building talent in the region through early STEM engagement to student placements, apprenticeships and upskilling opportunities, LSTSI activity ensures there is a rich talent pool in the region.
The Expert Mentor Networks offers peer learning and mentoring services as well as access to innovative training leadership programmes, some of them specifically designed to support life sciences businesses. Our region offers a unique blend of businesses, universities and translational research centres that have started to cluster around Charnwood Campus. This already established and well-connected life science ecosystem with aspirations to forge new business links and growth opportunities benefits from knowledge sharing and nurturing good practices.
Life Sciences Cluster Support (LS CS)
Charnwood Campus conference centre is a focal point for international, national and regional life science communities. All events, conferences and workshops are themed around starting and growing a successful business, finance, market access, infrastructure and supply chain strengths helping catalyse collaboration opportunities and business growth.
NHS and Academic Collaboration Platform (NACP)
Home to world-leading Universities, one of the largest research-active NHS trusts in the UK and the Midlands only NIHR funded Patient Recruitment Centre, the Charnwood Campus NHS and Academic Collaboration Platform (NACP) offers access to funding and clinical and academic partners to facilitate research from blue-sky to pre-clinical, up to Phase 3 and 4 commercial trials.
The Charnwood Campus is part of the Loughborough and Leicester Science and Innovation Enterprise Zone.
Enterprise Zones remove barriers to private sector growth by cutting business taxes, easing planning restrictions and giving businesses the tools they need to invest and expand.
This brings many benefits to Charnwood Campus clients including exemption from business rates, simplified planning regulations.
Charnwood Campus is the first UK Life Science Opportunity Zone and therefore benefits from engagement with government ministers and officials from the Department for International Trade and the Office for Life Science as part of the Life Sciences Industrial Strategy.
Organisations located on-site benefit from those linkages to the government landscape.
Designated as a High Potential Opportunity (HPO) for Rehabilitation the site is an ideal location for companies working in the rehabilitation and chronic disease sector to locate. Charnwood Campus offers strong linkages to commercial, clinical and academic partners, DiT, OLS and BEIS.
Launched in 2021 and endorsed by Rt. Hon George Freeman Charnwood Campus Life Sciences Talent and Skills Institute is an exemplar platform where industry and academia work together to solve short and long term skills challenges by creating a clear path from study to the workplace, circular development and upskilling employees.
The programme aims to help attract and recruit the best talent, retain graduates expanding the talent pool for businesses, influence curricula to bridge the gap between learning and work readiness.